The Lilith Fair. What an extraordinary event! I had no clue at the time what an impact it would have on the music industry. The only thing I knew was that I had been waiting 7 years for this concert! It was awesome, to say the least. I saw the fair at Great Woods in Mansfield, MA in August of 1997. The line-up was Sarah McLachlan, Tracy Chapman, Paula Cole, The Cardigans and Fiona Apple. I wish I could have seen Joan Osborne or Mary Chapin Carpenter, but it's all good! I'm psyched for Erykah Badu and Missy Elliot this year. New updates! Confirmed artists and articles below! This page is dedicated to the women of Lilith...

The Lilith Fair Homepage 98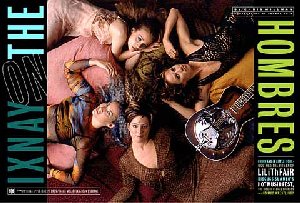 An exciting article in Entertainment Weekly
The Lilith Fair Double CD which came out April 28th. Features Live performances.


I've personally used CDNOW for many different artists, and they're always on time and reliable! Use this to search their entire database for any artist! Buy the Lilith Fair Artists here!

CD One
1
Paula Cole
Mississippi
2
Indigo Girls
Scooter Boys
3
Autour De Lucie
Sur Tes pas
4
Cardigans
Been It
5
Dayna Manning
I Want
6
Abra Moore
Four Leaf Clover
7
Lisa Loeb
Falling in Love
8
September 67
The Loneliness of the Long Distance Runner
9
Lhasa
El Payande
10
Susanna Hoffs
Eternal Flame
11
Suzanne Vega
Rock In My Pocket
12
Joan Osborne
Ladder
13
Sarah McLachlan
Building A Mystery
CD Two
1
Sarah/Jewel/Indigos
Water is Wide
2
EmmyLou Harris
Going Back to Harlan
3
Meredith Brooks
Wash My Hands
4
Patty Griffen
Cain
5
Wild Strawberries
I Don't Want to Think About
6
Dar Williams
What do you hear in these sounds
7
Shawn Colvin
Trouble
8
YungChen Lhamo
Lama Dorje Chang
9
Tracey Bonham
The One
10
Wild Colonials
Charm
11
Tara MacLean
Jordan
12
Victoria Williams
Perry Winkle Sky
Rolling Stone Article
Although Lilith Fair was the most successful tour of last summer, tour organizer Sarah McLachlan says she decided to organize a second tour simply because she "had fun." Fun, and a sense of camaraderie were the general themes at the press conference to announce this year's Lilith lineup and itinerary. Joining McLachlan at Los Angeles' El Rey Theater were Lilith vets Shawn Colvin, Paula Cole, Meredith Brooks and Lisa Loeb, as well as rookies Liz Phair, Tracey Bonham, Rebekah, and Bonnie Raitt (who described herself as the tour's "den mother," adding that she was curious to see if the performers' menstrual cycles would synchronize).

This year, the tour will play fifty-seven dates in forty-seven cities, starting June 19 in Portland, Ore. and finishing up in Vancouver, BC on August 31. The tour will visit twenty new cities, and care was taken to ensure that no acts would return to the cities they played last year. Again, McLachlan will be the only act playing the entire tour.

Responding to criticisms that last year's lineup tended toward folky singer/songwriters, the acts booked this year are more eclectic, including rappers Queen Latifah and Missy Elliott, trip hop acts Morcheeba and Mono, R&B diva Erykah Badu and New York hipsters Luscious Jackson. The tour will also include Natalie Merchant, the Indigo Girls, Sinead O'Connor, Me'shell N'degeocello, Lauryn Hill, Beth Orton and Mary Lou Lord. McLachlan expressed some regret that for the second year, Lilith was unable to book Joni Mitchell. "She's an illusive, wonderful, Canadian artist," she said. "The invitation is always open."
The process of choosing the acts, McLachlan explained, was basically the same as last year: she asked the bands she wanted to hear. But after the success of last year, "it was easier to get people to take our calls; we had a track record of success." That track record also meant that Lilith is booked into some bigger venues this year -- in Los Angeles, the tour is booked into the 100,000-seat Rose Bowl, as opposed to 15,000-capacity Irvine Meadows Amphitheater. McLachlan isn't worried about the larger audiences: "the intimacy of Lilith comes from the interaction between the artist and the audience, not the size of the venue."
There will be more interaction between the acts this year, McLachlan promised. "I was much too shy last year," she said, "but this year, I'm going to be knocking on dressing room doors, getting people together."
Asked to comment on the opposite trajectories of Lilith and Lollapalooza, McLachlan said she felt that the other festival was smart to take a year off. "Sometimes it's best to take a breath and reconsider." As for Lilith's future, she said that while it's hard for her to schedule a week ahead, she and her manager, Marty Diamond, started Lilith with a three-year plan. "We're committed until 1999; we'll talk about the future after that."
As it did last year, Lilith Fair will present acts on three stages; but this year there is a twist. Talent shows, sponsored by Levi's, will be held in fourteen cities with the winner appearing on the Village Stage in their hometown. "Finding unknown talent is always a joy, and part of Lilith's mission," McLachlan said. It's a philosophy that also influenced the choices on the double-disc Lilith live album. "The main stage acts are necessary for sales," she said, "but it was just as important to me to have acts from the Second and Village stages on the album."
STEVE MIRKIN
www.rollingstone.com