The winner for the week of January 31-February 6 is:
The Unofficial Lila McCann Online Fan Club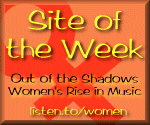 This is the place for the special sites of Out of the Shadows ~ Women's Rise in Music! These sites have been selected by the members of the collection to receive this award. Granted, you don't have to be a member to vote or nominate, so if you're surfing the collection, please take a few minutes to check out this week's nominations. If you would like to recieve this wonderful award or you think there's a site in the ring that is a few cuts above the rest, cast your vote (right away)! I've changed the format and now anyone can vote for a specific site. Every week, 3 sites will be nominated for this award. If you'd like to nominate a site, you must vote for one of the current sites. Votes are tallied up at the end of the week and the winner is notified by Monday. What are you waiting for, it just takes a second and it will make everyone happy. If you would like to assist me in making an award, email me.

Thanks to Sara for this award!

---


For the week of February 7-13, the nominations are:
Dubstar Site no. 9
The Official Kari Touring Homepage
L. Shaw Brooks
Vote for one of these sites in the form below.
You must fill in your email address, or your vote won't count.
If you vote, you can also nominate a site for next week's vote,
but YOU MUST VOTE TO NOMINATE A SITE.
Use the name of the site as it appears in the ring list, or the URL of the site.
---
January 31 to February 6 ~ The Unofficial Lila McCann Online Fan Club
January 24 to January 30 ~ A Tribute to Melanie Safka
January 17 to January 23 ~ The House of Lila McCann
January 10 to January 16 ~ Shock Me Sane -- Tori Amos
August 8, 1998 to January 9, 1999 ~ (voting closed)
August 1 to August 7 ~ A Tribute to Lesley Gore
July 24 to July 31 ~ Joan Jett - The Queen of Rock
July 16 to July 23 ~ The Holly Figeuroa Band
July 8 to July 15 ~ Jammer's Lisa Loeb Shrine
June 30 to July 7 ~ Jolynn Daniel Online
June 14 to June 29 ~ The Chick Singer - Ani Difranco
June 7 to June 13 ~ Alice Di Micele
June 1 to June 6 ~ The Luscious Jackson Source
May 24 to May 30 ~ ~*Jenn's Faerie Ring*~
May 16 to May 23 ~ Jewel Standing By
May 10 to May 16 ~ Susan Cowan, Pure Country Velvet
May 3 to May 9 ~ The Magic of Ani Difranco
April 26 to May 2 ~ Homage to Melissa Etheridge
April 19 to April 25 ~ The Great Divide - A Sarah McLachlan Page
April 5 to April 11 ~ The Blackbird Inn - Lila McCann
March 29 to April 4 ~ The Slick Divide - A Liz Phair Page
March 22 to March 28 ~ Morrigan's Vision
March 15 to March 21 ~ My Sheryl Crow Kicks Page
March 8 to March 14 ~Tracy Chapman - A Living Legend
March 1 to March 7 ~ Tribute to Patsy Cline
February 22 to February 28 ~ Frank's Natalie Merchant Site
---
---