Thanks for visiting my TORI AMOS page! This page was formerly entitled "Tori Amos Worship", but due to the fact that I don't 'worship' Tori, I decided to change the title. My feelings towards Tori have changed, or morphed, since the release of "from the choirgirl hotel". People were getting the impression that I was obsessed. I'm not a stalker, I've never met Tori (although I only wish for a quick hello, thank-you, picture, and autograph), and I don't live my life according to her. I deeply respect her as a woman. A performer. An artist. A musician. A human. I feel that many of the other Tori sites out there on the web possess somewhat of an unhealthy, obsessive feeling about them. Maybe it's just me. Anyways, Tori's music is incredible and has a very special place in my collection and my love of music. Listen to "from the choirgirl hotel"! As you probably can tell, I deeply respect this woman. Tori's music is the absolute best there is out there. She's emotional, deep, raw, moving, and very difficult to describe. My reasoning behind this page is to allow anyone out there to hear Tori for truly what she is known for. Her music. Tori is at her best live. I was fortunate enough to see her the summer of 1996 in Providence, RI at the Performing Arts Center, this past summer, August 1, at the Fleet Center in Boston, and lastly on November 19 at the UNH. Providence was my first musical experience where I was in total awe the whole time before, during, and after the show. The environment, music, and performance was unbelievable and this really made me want to get Tori's music out via the web.
My experience this past summer was different though. It was with the band (which I love) but the Fleet Center is HUGE. There were thousands of people there and the intimacy of Dew Drop Inn was somewhat misplaced. I'm not downplaying the concert or saying that I didn't like it, because I absolutely loved it. I just wish that some of the fans would have some consideration and be quiet when she's either talking or performing. This is something that's upset me and made me quite hesitant to see her in a large venue again. Nevertheless, I got tix to see her at UNH November 19th. I remind myself that I'm there for Tori.
On November 19th, I met up with another webbie friend of mine along with my girlfriend and we waited in line for a good hour before the doors opened. This enabled us to hear Tori warm-up with "Mary" and "God". I must have heard "Mary" three times that night although she didn't perform it with the set list. I was very suprised with the set-list that night. "Angie", "Flying Dutchman", and a spine-chilling "Winter" supported the "Under The Pink" themed night. Sure, she also played choirgirl favs "i i e e e" and "Raspberry Swirl" but it was great to hear a unique set-list for the night.
"Ears With Feet" are what Tori calls her fans. (she hates the word fan). I'm not sure what it is about Tori that is appealing. For me, it is everything. I love the way she composes, arranges and presents her thoughts, feelings and ideas into her music. Anyways, this is my chance to say "thank you!" to Tori. I'm usually always adding new info and tidbits, so if you've been here before, THANKS, and please hit the reload button! Check all of the sections out, it's my attempt to bring Tori Amos into your world. Keep your ears and imagination open and encompass all that is Myra Ellen Amos.

Tori Amos (b. Myra Ellen Amos) was one of several female singer/songwriters who combined the stark lyrical attack of alternative rock with a distinctly '70s musical approach. Her music falls between the orchestrated meditations of Kate Bush and the stripped-down poetics of Joni Mitchell. In addition to reviving the singer/songwriter traditions of the '70s, Amos revived the piano as a rock & roll instrument. With her 1992 album Little Earthquakes, Amos built a dedicated following that continued to expand with her second album, Under the Pink.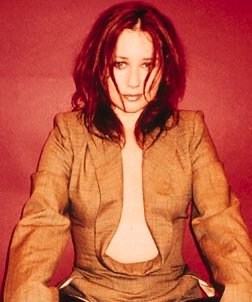 Born in North Carolina but raised in Maryland, Tori Amos was the daughter of a methodist preacher. By the age of four, she was singing and playing piano in the church choir; she began writing her own songs shortly afterward. Amos won a scholarship to Baltimore's Peabody Conservatory based on her instrumental prowess. While she was studying at Peabody, she became infatuated by rock & roll, particularly the music of Led Zeppelin. She began writing pop ballads and performing in local bars. Amos moved to Los Angeles in her late teens to become a pop singer.
Atlantic records signed her in 1987, recording an uninspired pop-metal album called Y Kant Tori Read the following year. The record was a complete failure, attracting no attention from radio or press and selling very few copies; nevertheless, she didn't lose her record contract. By 1990, Amos had adopted a new approach, singing spare, haunting semiconfessional piano ballads that were arranged like Kate Bush but had the melodies and lyrical approach of Joni Mitchell. Atlantic sponsored a trip to England in 1991, where she played a series of concerts in support of an EP, Me and a Gun.
The harrowing "Me and a Gun" was an autobiographical song, telling the tale of a rape. It gained positive reviews throughout the media, and both the EP and the concerts sold well. Little Earthquakes, Amos' first album as a singer/songwriter, was released in late 1991 and sold well in both the U.S. and the U.K. In 1992, she released the Crucify EP, which featured three covers, including Nirvana's "Smells Like Teen Spirit" and Led Zeppelin's "Thank You." Delivered in early 1994, Under the Pink, the full-length follow-up to Little Earthquakes, was a bigger hit, selling over a million copies and launching the minor hit singles "God" and "Cornflake Girl." Two years later, Amos delivered her third album, Boys for Pele. -- Stephen Thomas Erlewine, All-Music Guide
Lately, I have been listening to many of her bee-sides, along with the Great Expectations Soundtrack. "Siren" and "Finn" are incredible songs! With "from the choirgirl hotel", "iieee" and "Cruel" are my favorite, but then again, it's so hard to choose. I don't want to push aside her "Trilogy" which is what Little Earthquakes, Under the Pink and Boys For Pele are probably going to be categorized under.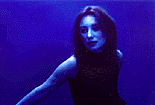 There's so much out there (on the web) about TORI, and I have no clue where to start! I absolutely love her music. Tori as a whole package, or even just herself and a piano, is the greatest. I feel that If I add my two cents about her, maybe others will appreciate her as much as I do. On another note, this website was uniquely designed by myself. I was not influenced in any way by anyother site on the internet. I've been told that a particular site feels I "stole" their idea. Honesly, I don't even visit many other Tori sites on the internet because I feel that they are a tad too obsessive and although their intention is good, it comes off as too obsessive. So to the webmaster of the site who thinks I stole your image, I had never been there and well, I don't see too much of the same theme. Just stay real and enjoy the music.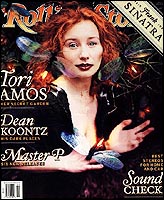 Tori had an unfortunate miscarriage after the Dew Drop Inn tour. This left her empty inside and she began to write. This is where "from the choirgirl hotel" came from. The end of February 1998 came a new twist in the Tori world. She got married to her sound engineer Mark. I'm very happy for her and I wish her the best of luck with everything! You can see pics from her wedding in my gallery. She finally made the cover of Rolling Stone Magazine! Spin Magazine and Musician Magazine have been more than supportative of Tori, and finally, RS has realized the power this woman has through music. Congrats!
She recorded a "Storyteller's" concert for Vh1 and another taping for Sessions at West 54th Street.. From those who were there, it was an incredible experience. Streamed all of the songs from the Sessions concert for you in the "Streaming Real Audio" section. Check them out in case you missed it. It was quite the night.
A new double live cd is planned for release Winter of '99. The final leg of Plugged '98 was recorded and Tori and her management will be picking out songs from the concerts for the cd. It is rumored to be a collection of rarities and very special recordings. Look for "Merman" and - hopefully - "Siren" to be encluded. I'm not making any promises, but it should satisfy all us EWF out there. I've also heard that there - may - be a video to go along with it. Nothing has been confirmed yet.
Wish Tori the greatest congrats on her recent nominations, awards, and praises as 1998 closed out. She was incredibly nominated for "Best Alternative Album" with "from the choirgirl hotel" AND for "Best Female Song" with "Raspberry Swirl" for the Grammys. Although it would have been awesome to see her win, and she most definietly deserves it, it was a great accomplishment to be nominated by your peers and the music industry.
---
[Intro|Sound|Collection|Video|Lyrics|Gallery|Links|Register|EWF|Home|Store|IRC|Bus|Articles]